Get clear, purposeful & on track.
CREATE YOUR OWN PATH TO INSPIRE & GROW IN BUSINESS
With thanks for reading and contributing to my enews, I'm glad to share with you a new free Strategy Mapping resource!
This DIY Roadmap was created to help you gain clarity and take inspired action towards your vision for success. It unpacks 6 simple steps for clarifying your purpose and aligning key strategic elements and priorities.
I can't wait to hear about the strategic roadmap and stories of success you create!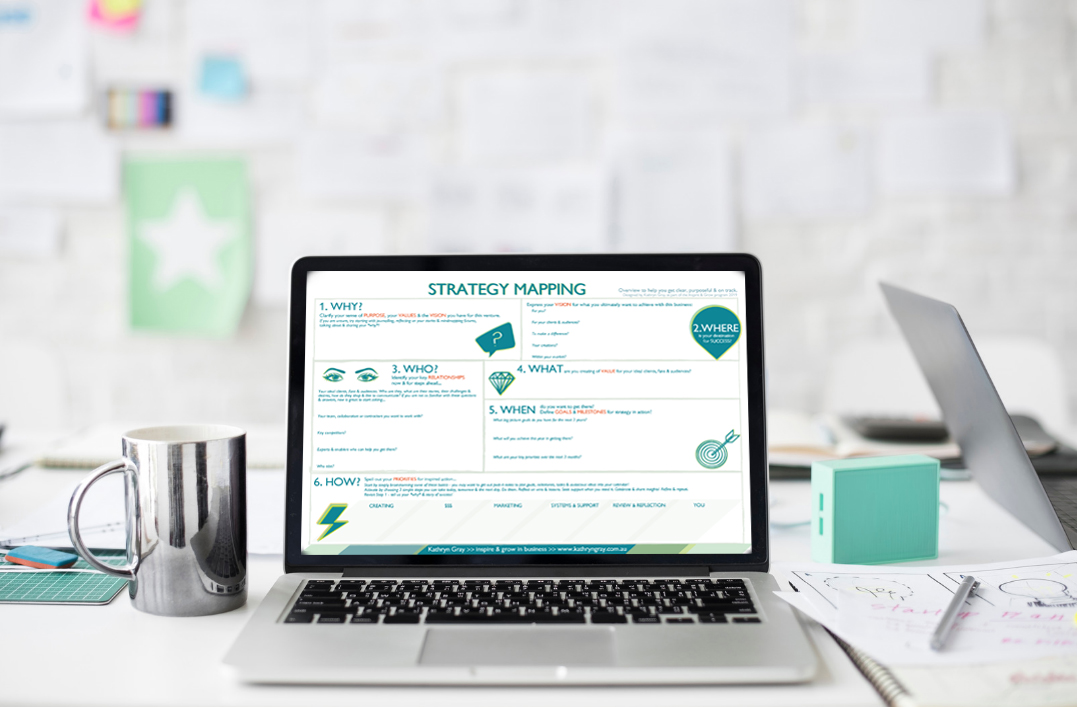 Mapping your strategy for success, your way.
You get an easy roadmap to start or renew your strategy - a fillable pdf that you can simply complete on your computer, or print out A3 to handwrite, post-it-note up a storm and inspire your workspace!
Contact me if you seek a bespoke version for your presentations, which I can brand and customise for you.
Aaaaaannd here's a special offer for you…
Starting or renewing your strategy with this DIY Roadmap is brilliant for getting clear, purposeful and on track.
However I always recommend support and accountability to help think outside the box and expand beyond limiting stories, so I also have 5 special spots for your very own Clarity Review…
We connect for a 60min Clarity Review, face-to-face or via Zoom, to map out your WHY and strategic foundations. You receive a bespoke 2-page summary document and an online toolkit to help you take inspired action.
Book now for $195 to grab one of 5 special spots in August - including a bonus 30min follow up session (valued at $95). This means we meet again to review your progress and renew priorities, along with free email support and accountability between sessions.
This special offer is available for bookings made by 10 August, for sessions within 6 weeks.
If you're wondering what it's like to work with me, here are lovely testimonials from some of the brilliant folks I've had the honour of working with - thanks!