Create your own path for success, income & audiences
start strategising for solid business behind your brilliance
Artists, makers and cultural producers, are you ready to get clear, purposeful and on track towards your vision for success?
Is it tricky for you to express the inspiring things you do, navigate all the shiny ideas and moving parts of your projects, or figure out how to make a living doing what you love?
Now is the perfect time to make your own ideal path to success, income and audiences.
Let's start by mapping out your purpose, priorities, people and the powerful value you are creating.
Here is your free Strategy Roadmap, designed to help you gain clarity and take inspired action towards your vision for success.
The Roadmap unpacks 6 simple steps for clarifying your purpose and aligning key strategic elements and priorities.
I designed this process to help creative and impact-driven entrepreneurs to define our own strategic foundations, cultivate flow and purposeful alignment, and to encourage looking after our most valuable asset - ourselves.
Strategic Mapping gives you a powerful overview, all in one place, to help you activate your strategy now and with steps ahead...
I can't wait to hear about the strategic roadmap and stories of success you create!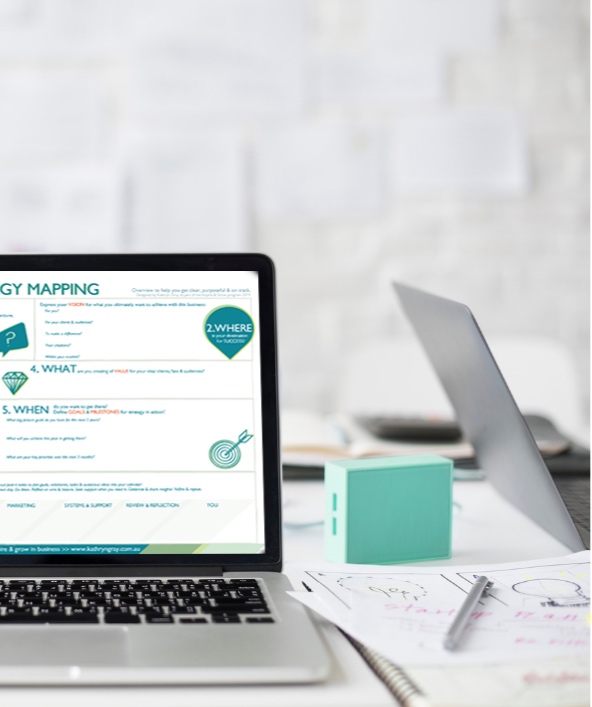 Mapping your strategy for success, your way.
You get an easy roadmap to start or renew your strategy. It's a fillable pdf that you can simply complete on your computer, or print out A3 to handwrite, post-it-note up a storm and inspire your workspace!
AAAAAANND HERE'S A SPECIAL OFFER FOR YOU…
Starting or renewing your strategy with this DIY Roadmap is super for getting clear, purposeful and on track.
However I always recommend support and accountability to help think outside the box and expand beyond limiting stories. If you are keen to work together on your Strategy Mapping, I have 5 special half-price spots for your very own Clarity Now workshop…
Let's clarify your purpose, prioritise all those fantabulous ideas, and map out YOUR strategic business foundations. Over a two hours (or 2 x 60 min sessions) we connect 1:1 and strategise via Zoom - or over a cuppa if you are here near Byron! This supportive workshop is designed to help you get clear about:
Your *why* and vision for success across your business

The value you are creating and communicating, for making income and impact

Strategic elements and key priorities moving forward.
You gain bespoke tools and insights for first steps, and your own strategic roadmap package (Google Sheets or Asana) to inspire and grow with!
Book your special spot by 31 March with coupon CLARITYOCLOCK to pay only $155.50 (regular price $311).
Clarity Now integrates the Strategy Mapping framework designed for creative and impact-driven entrepreneurs and teams. You can read some awesome things people say about working with me here, and your queries are so welcome!